Furnaces for Aluminum
We offer furnaces for aluminum industry, which are used for heat treatment of product made out of aluminum alloys.
Aging
Annealing and Aging
Quenching
Melting
Holding
Homogenization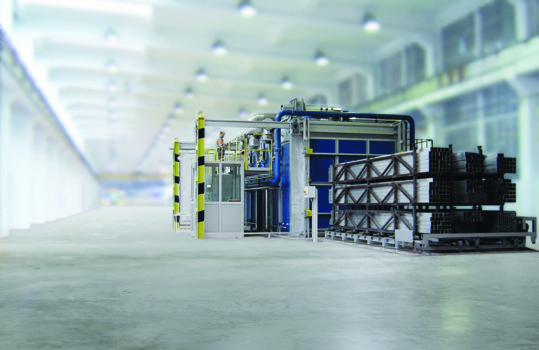 We develop, design and manufacture furnaces in accordance with customer's specifications.
Depending on the requirements we offer different types of furnaces. Here you can see two types of furnaces:
Tunnel furnace

Drop Bottom furnace
At Bosio we build drop bottom furnaces for batch application and belt furnaces for continuos production needs. These furnaces can be electrically heated or they can be fuel fired. Our furnaces are designed to operate with tight temperature uniformities for maximum flexibility to allow for aging and annealing.
All of our heat treatment products are manufactured in conformity with relevant standards, typically AMS 2750E for equipment capabilities, and can be delivered with a note-worthy uniformity and low quench delay times from the moment the doors start to open.
We manufacture whole systems, with a full range of heating techniques and quench tanks with heating or cooling, depending on the process.